Roll-Off Leasing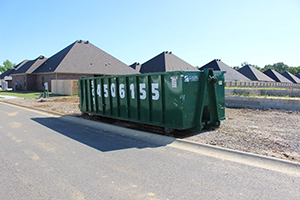 The Department of Sanitation offers roll-off container rentals to meet residential, business, and industrial needs throughout the city. This service is available to all residents and businesses within the Conway city limits.
View the Lease Agreement & Fee Structure.
Container Sizes
20 Yards
22ft (L) x 8ft (W) x 3ft (H)
9 regular pickup loads
30 Yards
22ft (L) x 8ft (W) x 5ft (H)
12 regular pickup loads
40 Yards
22ft (L) x 8ft (W) x 6.5ft (H)
14 regular pickup loads
Each container will hold up to 20,000 pounds maximum.
Weight capacity does not equate to a full container. Heavier materials will require that a 30- or 40-yard container be emptied when no more than half full.
For concrete and other heavyweight refuse, the 20-yard size is used.