Bulky Item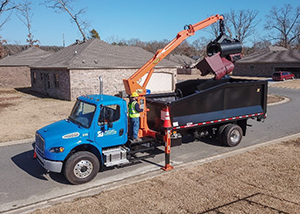 Bulky item collection is a residential-only service offered by the Department of Sanitation. Most general household bulky items are collected at no additional charge for single-family residences utilizing paid green-cart curbside garbage collection and in good standing with Conway Corporation utilities.
An appointment is required.
Three items per collection and up to two collections per calendar year are permitted for each residential account.
Some specialty items (no different than when brought directly to the landfill) will require a nominal disposal fee. Any applicable fee(s) will be discussed when making the appointment and included in the resident's monthly Conway Corporation billing.
Ready to request a bulky item pick up  for your home? It's easy online!
Do you live outside the Conway city limits? If so, contact your city or county government offices for collection requirements and processes. The Department of Sanitation provides collection services only within the Conway city limits.
---
What Is A Bulky Item?
sofa
chair
barbecue grill
smoker
outdoor furniture
mattress
dresser
large area rug
swing set (disassembled)
trampoline (disassembled)
Common bulky items accepted curbside with a disposal fee include, but are not limited to:
refrigerator
A/C window unit
water heater
washer/dryer
oven
lawn mower
Common bulky items NOT accepted curbside include, but are not limited to:
trees and debris
bricks and lumber
carpet rolls and pads
tires
bags of garbage
televisions
batteries
hazardous waste
---
Collection Guidelines
Curbside bulky item collection will occur under the following guidelines:
Curbside collection is available by appointment only and at the discretion of the Department of Sanitation.
Two collections are permitted annually. Up to three bulky items are permitted in each collection.
Residents are strictly prohibited from placing bulky items curbside until the day prior to the scheduled collection.
Bulky items must be placed at the curb no later than 7 a.m. on your scheduled collection day.
Bulky items must be placed, within 5-feet of the curb, away from all obstacles (e.g. other carts, utility poles, mailboxes, vehicles, holiday décor, etc.), and out of the roadway.
In the airspace above the items to be collected, there must be at minimum 20-feet overhead clearance.